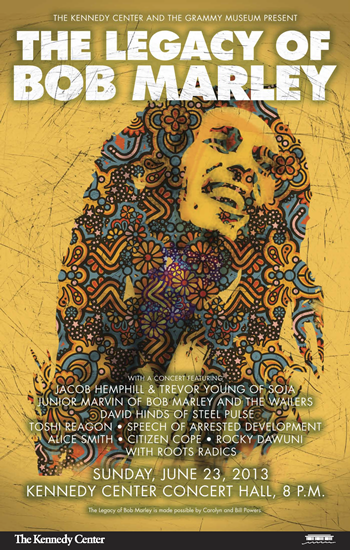 The Legacy Of Bob Marley, a joint production between the Kennedy Center and the Grammy Museum, featured reggae acts David Hinds of Steel Pulse, former Wailers guitarist Junior Marvin, Trevor Young and Jacob Hemphill of SOJA; as well as Speech of Arrested Development, Matisyahu, Toshi Reagon, Ghanaian singer Rocky Dawuni, Citizen Cope and Alice Smith; all backed by the Roots Radics Band.
Musicologist/disc jockey Dermot Hussey, who was the event's master of ceremonies, told the Jamaica Observer that the evening went "very well. It was sold out by Friday and the crowd loved every bit of it".
According to Hussey, some of the more memorable performances came from Toshi Reagan, daughter of Bernice Reagon Johnson, a founding member of gospel group Sweet Honey In The Rock. She performed an acoustic version of Sun is Shining [must listen below!].
Rocky Dawuni performed War and Get Up Stand Up while Speech did Redemption Song. Hinds, who toured with Steel Pulse as Marley's opening act in 1978, delivered an acoustic rendition of Concrete Jungle.
SOJA, which hails from Arlington, Virginia, cite Marley as one of their biggest influences. They did Running Away and So Much Trouble.
Marley, who died in 1981 from cancer at age 36, is the latest pop culture to be recognised by the Kennedy Center.
Actor Dustin Hoffman, Bob Dylan, Bruce Springsteen, Barbra Streisand and blues guitarist Buddy Guy are among the recipients of awards from the Kennedy Center.
Cited at The Jamaica Observer