The website, Duttyism.com, is a blog where he shares his thoughts on revolution, spirituality and life's nuances. After more than thirteen months of inactivity, it has been revived with a fresh design. The first article was posted on December 4, titled 'Reggae Revival in 2014.' There, Bookman shares his thoughts and expectations for the movement in the coming year.
"I am not like most bloggers who post on a regular schedule just to keep people's attention. That is not my style," said Bookman. Instead, he insists that his blog has a deeper purpose. "Whenever I resume putting out public writings, it usually signals that shifts are about to happen. This is something I have noticed over time but I really couldn't tell you why."
It was in 2011 that he first wrote about a "Jamaican Revival" on Duttyism.com, and the following day he also spoke about it at the launch of his first book, Tried & True: Revelations of a Rebellious Youth. That moment provided the impetus for the movement now known worldwide as the Reggae Revival. Approximately one thousand copies have been sold to date.
"Jamaican Revival" and other older blog posts that are no longer available on his website will be released in a new book called Fatidic: Selected Duttyisms. The cover artwork was designed by rising graphic and mural artist, Matthew McCarthy, who recently exhibited his own work at the National Gallery of Jamaica's "New Roots" exhibit.
Fatidic: Selected Duttyisms will be released early in 2014 and made available for purchase on Duttyism.com as well as other online outlets and bookstores. Still, some are wondering about the status of his highly anticipated Reggae Revival book.
"When I initially started working on the Reggae Revival book, I thought that it would help to draw attention to what was then, a largely unfamiliar art scene. Recently I came to the realization that it's just not that urgent anymore," said Bookman. "After the global attention that came suddenly during the summer, especially from Europe, North America, and Jamaica itself, I realized that I could be more patient with the book and focus on other ways to assist the movement."
The Reggae Revival book is slated to be published towards the end of 2014. In the interim, more information about the movement can be found at reggae-revival.com.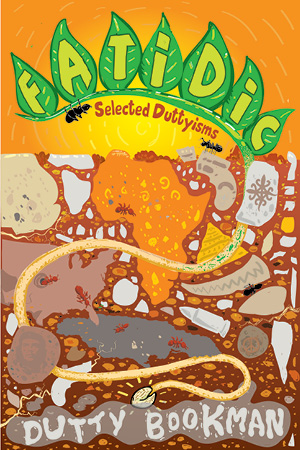 The front cover of Fatidic: Selected Duttyisms, designed by Matthew McCarthy.