Releasing one-hundred and twenty pairs of the black mid-tops, accented with the Ethiopian/Rastafarian colours (red, green and gold), the campaign is set to run throughout summer, coinciding with the label's debut compilation, scheduled for an August 27 release in digital, CD and vinyl formats.
"This relationship has many marketing opportunities: we can do shows, create products together but most important is the relationship to authenticity; we come from the action/sports world, they come from the reggae world so bridging gaps is very meaningful to both parties," explained Kurt Soto founder of Vans' Music Program, which includes their annual sponsorship of the Warped Tour.
The album's ten tracks pair VP's Jamaican artists with several American Reggae acts that have amassed large fan bases among Vans' target market: the skating and surf boarding community.
"Our goal is to expose Jamaican acts to an audience that may be unfamiliar with them, but also legitimize in a sense what the American guys are doing because Caribbean audiences can be unreceptive to outside acts playing reggae," adds Mike McGraw, VP's Director of New Media as well as an avid skateboarder. "This is something new for VP; ultimately, we hope to sign Jamaican and non-Jamaican bands to the Dub Rockers imprint."
The first single Only Man in the World (see above), plays as a sultry lovers rock duet featuring Hawaii's Anuhea and Jamaica's Tarrus Riley was released in March and have attracted over 6,000 digital sales while gaining new lovers of that Reggae sound.
"Reggae is a niche genre that doesn't need division between Caribbean and American fans. I thought if we produced tracks that drew an authentic connection between Jamaican and American acts, it would appeal to both audiences," offers Christoffer Mannix Schlarb, CEO of the reggae-influenced digital label Dub Shot Records.
The first track recorded for the project was "No Cocaine" featuring veteran Jamaican band Inner Circle (also known for their "Bad Boys" theme to "Cops") fiery Jamaican sing-jay Capleton and Slightly Stoopid. Founding member, guitarist Roger Lewis says the American bands' desire to play Jamaican music parallels what Inner Circle was doing during their late-60s formative years. "Back then we were listening to the Impressions, the Beatles, trying to copy the foreign-man style. Slightly Stoopid, SOJA been doing the same, except they were learning our '70s tunes; it's a real humbling experience to see how much we influence these kids," Lewis revealed.
VP's development of the Dub Rockers imprint recognizes the shift in the reggae market as American reggae bands, buoyed by years of incessant touring and strategic online/social media marketing, consistently outsell their Jamaican counterparts.
(Spotted at billboard.com)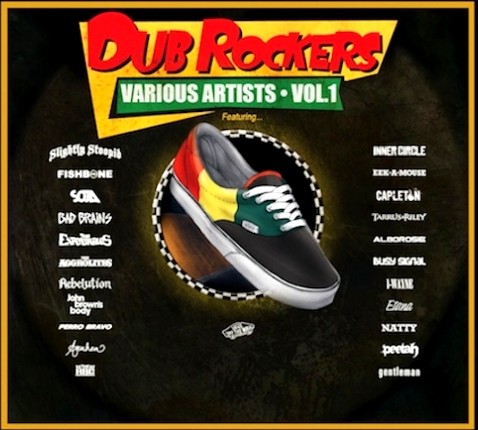 Dub Rockers' Tracklist
1. No Cocaine (Remix) – Slightly Stoopid feat. Capleton & Inner Circle
2. Change – Natty feat. Alborosie & Busy Signal
3. Ragga Dub (Perro Bravo Remix) – Bad Brains feat. Angelo Moore
4. The Gold (Dubmatix Double Dutch Remix) – John Brown's Body feat. Peetah Morgan
5. Only Man In The World – Anuhea feat. Tarrus Riley
6. Complicated Girl - Aggrolites feat. Etana
7. Java (Prince Polo Remix) – Augustus Pablo & Tommy McCook
8. Ganja Smugglin – The Expendables feat. Eek-A-Mouse
9. So High – Rebelution feat. I Wayne
10. I Tried – SOJA feat. Gentleman & Tamika