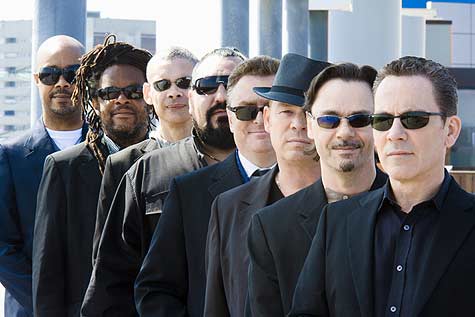 To be released September 2nd, the album is aptly titled Getting over the Storm and like many of the band's previous albums; original materials will be accompanied by a smattering of cover versions and interpretations of other songs.
Among the five original UB40 songs, the covers recorded for Getting Over The Storm were originally written and/or recorded by country music artistes.
Knowing that country music is loved by Caribbean audiences, UB40's sax player Brian Travers explained: "We've all spent a lot of time in Jamaica, and country music is very much part of the fabric. It's an honest music, just like reggae. The two genres really sit together well."
UB40's MC Astro added: "In the Caribbean, there are very few households that do not own a Jim Reeves album. I certainly had them in my house, as did all my West Indian friends when I was growing-up.
"When you'd go their houses you'd always see Jim Reeves staring back at you from the Blue Spot Gramophone! Country music and Jamaica are so finely entwined."
"It's not a country album, though," expressed Robin Campbell. "It's a UB40 album. It's a reggae album. We've just covered some country tunes."
With over forty UK Top 40 hit singles and sales surpassing 80 million records, UB40 will play UK tour dates in September to support the release of Getting over the Storm, see the list of dates below;
13th September - Sky Dome Arena, Coventry
16th September - Planet Ice Arena, Peterborough
18 September - Planet Ice Arena, Ryde, Isle of Wight
20th September - Planet Ice Arena, Cardiff

There is also a limited edition version of the album available. Limited to just 200 copies, the album will include a 12x12 poster signed by the band.

For more information you can visit here and pre-order the album here.

The official tracklist;

01. Midnight Rider
02. Just What's Killing Me
03. Getting Over The Storm
04. Blue Bilet Doux
05. If You Ever Have Forever
06. Crying Time
07. How Will I Get Through This
08. He'll Have To Go
09. Blue Eyes Crying In The Rain
10. I Did What I Did
11. On The Other Hand
12. Poor Man
13. I Didn't Know

Here are a few previews from the album;