Alton Ellis epic role in Jamaican music was fuelled by the incarnation of excellence, precision and artistic genius.
His life was a demonstration of ghetto authenticity and a telling answer to those vulgariser's who have perpetuated the myth that to come from the ghetto is to come full loaded with excuses for mediocrity and boorish behaviour. Alton represented true roots; the real soul of the Jamaican people. Anyone who knew Alton Ellis will testify to his relentless quest for perfection and his corresponding impatience with just-so performance and the excuses which go with it.
Ellis exemplified the fact that the desire to be world-class was not limited to uptown but was very much in Trench Town. He inspired and actively encouraged a whole cadre of musicians toward excellence.
Becoming a beacon of inspiration for artistes including Dennis Brown, Beres Hammond, Leroy Sibblies, Ken Boothe, Delroy Wilson, Sugar Minott, Bongo Herman, among many others, Ellis encouraged them to not only be a great vocalist but also be able to play at least one instrument; have a musical ear; paying serious attention to the aesthetics of music
He was truly the godfather, not only of Rock Steady, but to the musicians who constituted its galaxy of stars.
Altons role as a mentor to other greats is among his most profound contributions to Jamaicans music. So when you hear Beres Hammond today, you are hearing Alton Ellis. Bob Marley himself was strongly influenced by Alton and Bob looked up to Alton for inspiration. Alton was Bobs local Curtis Mayfield.
Everyone loved all the hits that would rev up the crowd: Girl I've Got a Date, Get Ready Rocksteady, Dance Crasher, Let Him Try, I'm Just a Guy, Why Birds Follow Spring, La La Means I love You but more so admired the black man pride that effortlessly oozed out of Ellis.
He had over 20 albums with some of his finest works not well known or recognized.
But what is well known is that Alton Nehemiah Ellis is a musical treasure mined in a land of gold.
Ellis was diagnosed with cancer of the lymph glands in December 2007 and passed away in October of 2008.
Sourced at The Gleaner
R.I.P Godfather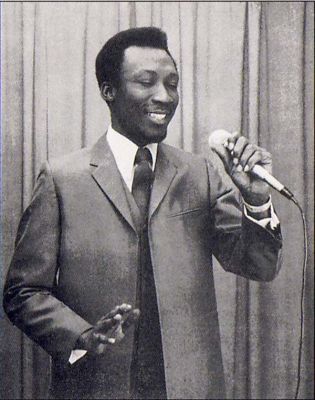 The world will certainly miss this legend forever.