It's been 14 years since Augustus Pablo's premature death at age 44, yet he remains (and ever shall remain) one of the most iconic and mysterious figures in Reggae and in all of music.

Included below is an excerpt from David Rodigan's interview with the legendary dub master. There is no bigger fan of Pablo than Rodigan, himself. He talks about it in almost every interview he gives.
The tune played after the interview is Pablo's first record, a gem called "Iggy, Iggy." Pablo recorded this track at Aquarius crca 1971 with producer Herman Chin Loy. It is Chin Loy who in fact gives the young Horace Swaby his new recording name – Augustus Pablo.
David Rodigan Interviews Augustus Pablo on BBC Radio by Midnightraverblog on Mixcloud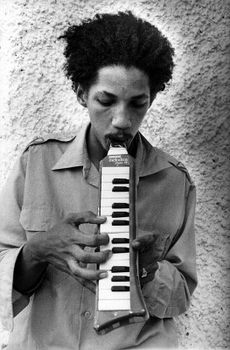 Dubbed 'Pablo at home', the track below plays as a 1972 version of Pablo doing a laidback melodica remake of Bob Andy's Studio One smash hit I've got to go back home
"I personally have to create music that way – thru' the inspiration of His Majesty and I don't do it more than so. I might do-over a rhythm if l like it, but I can't be tripping on one rhythm all the time.
"I can only do what I do for the crowd that love it and others who would like to hear it. That's the way the last LP came out," Pablo admits in an interview about his LP Rising Sun on the Greensleeves label which was the norm for him to always yearn to outdo expectations. "The album is nice in its own way — a couple of instrumentals on it are irie still."
Continuing by comparing the LP with his earlier records Pablo notes: "You hear more cleanness in it in a different way, I kinda mix-up the vibes a little more, a little dance-hall, a little… you know. (He shrugs) . . . you might see changes but nothing has really changed within the vibes that I have projected from long-time."
Augustus Pablo will forever be admired for the Dub visionary he was and will always be glorified for the phenomenal body of work he left behind.