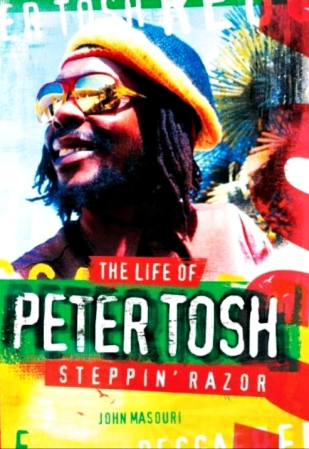 Speaking with Glen Lockley of The Midnight Raver Blog, author John Masouri spoke in-depth on Steppin' Razor: The Life of Peter Tosh'; the compelling research process and a huge catalogue of unreleased Bob Marley and Peter Tosh material.
On Tosh not having a definitive biography done before: "It's not just Peter Tosh. We should be asking why there are no major biographies of other reggae artists too. In my own experience, publishers are reluctant to venture beyond books on Bob Marley and historical overviews. The majority still don't believe in the power of this music to attract an international fanbase, or feel the need to promote the few books that do make it onto the shelves of major retailers. Thankfully, reggae's massive presence on the Internet is proving them wrong, and so that situation's liable to change in future."
On Tosh's reputation possibly putting off potential writers: "Not at all because any larger than life character like Peter makes a powerful subject and if your intentions are honourable, what is there to fear? That said, I wasn't the first author Omnibus Press approached to write his biography. There was talk of Herbie Miller, which never happened, and then my immediate predecessor apparently had problems separating Peter's story from that of Marley's and returned the advance. I'm just grateful to both of them."
On the main challenges faced when undertaking research for the book: "I got off to the perfect start by visiting Roger Steffens' archives in Los Angeles and spending nearly two weeks sat at his kitchen table, working my way through boxes of press clippings as he regaled me with rarities from every stage of Peter's career. Roger's help and encouragement proved pivotal but the hardest part was getting a"fix" on Peter's spirit and personality. That's the key task facing any biographer except I find the whole process of researching into someone's life and work a real joy, whether writing a book or preparing for an interview."
On the highpoints and lowpoints of the project: "I actually did walk away from it for a year after it became clear that the Peter Tosh Estate (and therefore his family) weren't interested in being involved. I'd had my heart set on writing an authorised biography, and it took time for me to readjust and finish the book without them. That was the lowest point and then Omnibus' reluctance to promote it provided another but "aluta continua," as Rastafarians would say. High points were thankfully plentiful, and tended to revolve around all the fascinating people I met and spoke to whilst researching the book. Their stories, and also trips to Jamaica and New York, brought Peter alive for me."
On some of the most significant facts learnt about Tosh: "I learnt a great deal about his baptism into Black Nationalism, his involvement with Johnny Nash and Danny Sims and his roller-coaster antics with the Rolling Stones… I found all of that fascinating, and likewise his brushes with obeah, the trips to Africa, his relationship with Yvonne Whittingham and time spent in Trench Town with Bob and Bunny. Writing this book was a real journey of discovery for me, despite having grown up with his music and seen him perform (including once with Marley on the Catch A Fire tour.)
"Looking back, I was appalled by the bad press he received and especially here in England. Many rock journalists just didn't get what he was doing at all, and some felt at liberty to attack him with impunity. To me, that's symptomatic of how reggae's been treated over the years or at least before the Internet came along and swept away a lot of the old prejudices. This younger generation of music lovers will hopefully view him in a different light, and with more understanding of what he was trying to achieve.
"I grew to like him enormously once I'd started writing, and had always admired his courage and determination in trying to change the world with his music. He was an idealist who believed in what he was doing and how rare is that? But he also had a great sense of humour and often made me laugh when combing through interviews or hearing people talk about him. I hadn't expected to enjoy him quite so much, which makes the nature of his decline and subsequent murder even more sad."
On Bob Marley and Posh comparisons that are made throughout the project: "The question I've been most asked since starting work on the book is 'Why isn't Peter Tosh remembered to the same extent as Bob Marley?' Hopefully readers of this book will discover some of the reasons why, or at least feel confident about drawing their own conclusions. He and Bob's lives were so intertwined for the first ten years of the Wailers but even after the group split, Peter was constantly having to field questions about Marley and fend off comparisons. Every reggae singer of that era was defined by Marley's success to a certain degree, and Peter more so than any other. References to this were therefore bound to crop up in Steppin' Razor, and I couldn't have told Peter's story without mentioning it, or describing the effects it had on him. Fortunately there was a lot more to the Bush Doctor than that, and he remains gloriously unique in so many ways."
On unreleased Bob/Tosh records: "Well, I'm not a collector and so that's not my focus. I was lucky enough to be given cassettes and CDRs containing a wealth of unreleased material by the likes of Roger Steffens and Mike Van Der Linde, but have no idea if they'll ever get the official stamp of approval. First we have to make the case that Peter – and the tracks themselves – are important enough to merit money and time being spent on them. In the meantime most of them are probably on YouTube already so why worry?"

Check out the in-depth interview here!
Steppin' Razor: The Life of Peter Tosh
is now available on Amazon