The year is 2005; Busy Signal simply Step Out into Dancehall's spotlight as Mavado had everyone declaring he's the Real McKoy. Ai-di-di-di-di-donia's raspy vocal style sparked an interest in Dancehall enthusiasts while Leftside gave light to his Dr. Evil persona and the Jonkanoo Riddim gained favourable airplay as the Dancehall fraternity mourned the loss of the dancing legend Bogle. Reggae Sumfest looks ahead to their 13th staging…a sizzling display of the best of the best all on one stage.
Rockers Night; Wednesday, July 20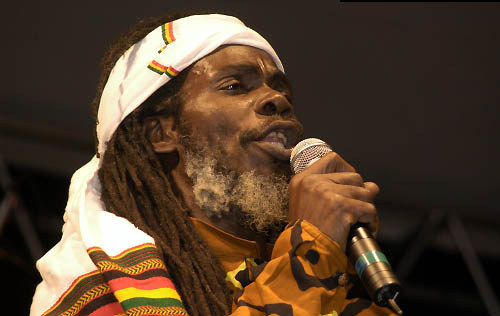 Having performances from John Holt, Gregory Isaacs, Alton Ellis, Judy Mowatt, the Mighty Diamonds, Charlie Chaplin, Josey Wales, General Trees, Pinchers, Brent Dowe and Jimmy Riley, that vintage vibe was on high profile.
With patrons soaking up John Holts' Ali Baba, Love I Can Feel and Carpenter they were amazed by Jimmy Riley's velvet vocals on My Woman's Love and Conversation making room for the Mighty Diamonds to impress with Have Mercy and Heads of Government. But DJs Charlie Chaplain, Josey Wales and the God father of Rock Steady, Alton Ellis, couldn't be outdone. Exciting the pleas of the crowd and seemingly outdoing themselves; true entertainers are certainly are a dime a dozen.
Dancehall Night; Thursday, July 21
Grabbing Capleton, Sizzla, Elephant Man and Lady Saw as the main crowd-pullers, Dancehall night was nothing short of spectacular. Sure enough Turbulence, Sasha, Assassin, Macka Diamond, Kiprich, I-Wayne, Voice Mail, Spice and Bascom X were all stunning in their individual sets but Sizzla amazed the appreciative audience with his per usual lyrical prowess.
In a 40-minute blitz he waltzed through his ever growing catalogue with singles Good Ways, Rastaman Don't Apologise, Rise to the Occasion, Solid as Rock and Words of Divine.
But of course Lady Saw, Spice and Macka Diamond showed their female power, giving the male-dominated-performance-night a memorable treat that will be etched in the minds of patrons for quite a while.
International Night I; Friday, July 22
Carrying the international appeal Ciara and Akon showed just why they are the indeed the most in demand acts for the year but Morgan Heritage, Luciano, Sanchez and Richie Spice truly lived up to the moment, giving performances that saw each writing their names among the upper echelon of the festivals best performers.
International Night II; Saturday, July 23
With great performances fom Ini Kamoze, Tami Chin and Tarrus Riley with rapper Fabulous and American Idol winner Fantasia delivering emotional yet energetic sets each…all eyes were on Toots and the Maytals and Damian 'Junior Gong' Marley featuring Stephen Marley.
Having Toots' strong husky voice echoing throughout the venue with classic cuts including Bam Bam, Pressure Drop and Sweet and Dandy the Marley brothers kept the crowd dancing and singing the night away.
From It was Written and Mind Control to Me Name Junior Gong and Still Searching, their collaborative performance dazzled the crowd in unthinkable ways.