The year is 1995; Benjy Myaz' Love You Higher is waltzing across the airwaves as Top Cat's No Coke Pipe had all the 'ganja gorgons' revelling in the moment; Coca Tea and Shabba Ranks' Flag Flown High kept everyone's eyes on Zion while Beenie Man and Determine's irresistible chant on Kette Drum left you with no other option but to rock with the beat. Reggae Sumfest now stands in its third year and seems stronger than ever.
Being heralded as "the festival of choice", the staging would take place August 8-12, at Catherine Hall Entertainment Centre Montego Bay, Jamaica.
The Beach Party/ Sound Clash:August 8
Tuesday, August 8th passed as the per usually official Reggae Sumfest 'warm up' event - a sound clash held at the Walter Fletcher Beach bringing out Bodyguard and Pieces from Jamaica and Waggy'T' from Miami. Everything from customized voice-overs to rare tracks were spun , sparking a keen interest in the ever pulsating crowd.
Vintage Vibes with just a touch of Soca:August 9
With the Fab 5 band hitting the first set of chords right around 8:45 p.m , Sumfest kicked off right with thousands of balloons being released backstage. Billed to perform are Dobby Dobson, Hopeton Lewis, Scotty, Derrick Morgan and the Clarendonians But no one could out do the mighty trio; Ken Boothe, Leroy Sibbles and the Heptones and John Holt, who closed the show. Those who had dozed off were now wide awake snapping and dancing along as Ken Boothe shuffled across the stage with John Holt bring the pure joy and unity of Reggae music to the fore and Leroy Sibbles and the Heptones matchless harmony danced through the morning air.
Dancehall sessions all night:August 10
Usually the biggest crowd puller, Dancehall night saw the likes of Lt. Stichie, Papa San, Beenie Man, Spragga Benz and Sanchez doing no wrong as the crowd clung to every note they delivered. But as the morning sun rose behind the stage Beenie man had his legion of female fans helplessly screaming as he performed his animatedly delivered closing set.
International Night I: August 11
Featuring the likes of Dennis Brown (who replaced Beres Hammond), Buju Banton, Tony Rebel, Frankie Paul, Freddie McGregor and Chalice, the night played as a celebration of the life and music of Garnet Silk who passed away a few months prior.
International Night II: August 12
In celebrating the 50th Anniversary of the birth of Bob Marley, Roots Rock Reggae echoed throughout the Catherine Hall Entertainment Centre. On the grand finale, performances came from international superstars Steel Pulse along with Ini Kamoze, Shinehead, Carlene Davis, Sayoka (from Japan), Leejahn (from Canada), Cidade Negra (from Brazil), Junior Tucker, Mykal Rose and a show stealing performance by Chaka Demus – Pliers with a special performance by Julian and Damian Marley.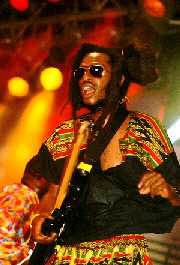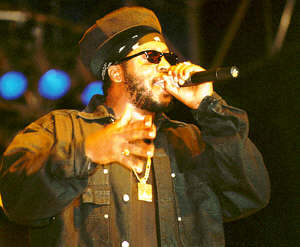 Ini Kamoze - Saturday Night, August 12, 1995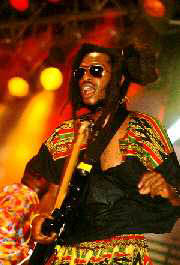 Steel Pulse - Saturday Night, August 12, 1995
****************************************
Spotted at Preview Net
Not all videos are from the 1995 staging