His first full Mixpak release, Inna Style N Fashion
,
is most certainly a product of its creator and his versatility: binding that classic Dancehall sound with island pop and house, weaving in creative sampling straight from the book of Ward 21 or South Rakkas.
For a promotional route, Douster did a mix that acts as a somewhat 'ultimate' Dacehall mix, taking you from older sounds of Dancehall, where he gets most of his inspiration with the likes of Horace Andy, to a more modern Dancehall sound with the likes of Tommy Lee:
The EP features vocals from rising stars Kantana, Kari Jess, Keida, and Cee Gee and with an attempt to find out about the man behind the EP MTVIggy's Alexis Stephens caught up with Douster talking about the EP and his Dancehall inspired sense of fashion:
How long have you wanted to do a Dancehall record?
For a while. Actually, the riddims that were used for this EP are maybe two or three years old. I happen to do dancehall riddims and rap instrumentals all the time, but I don't really do anything with them. When Dre Skull told me that maybe he could find some vocalists for them, I was pretty happy.
Did you have any previous connection with the vocalists?
No, not really. I've never met them actually and I've never been to Jamaica, but I definitely want to go and cut some things out there. For this EP, we just worked through the internet. It works, but it's not the most fun way to do music, I think.
Do you like what some of the Jamaican artists were able to do with your riddims?
Yes, definitely. I was quite surprised because they did very good vocals. They aren't really well known artists. Kantana and Cee Gee—they write songs and lyrics for Beenie Man but they don't usually sing. They delivered good lyrics and a good flow. I really liked what every single artist got done with the riddims. I couldn't have asked or expected anything better.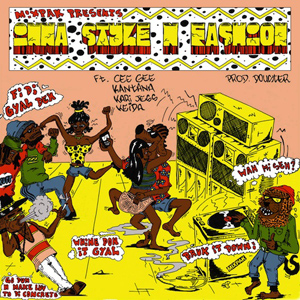 Tell me a little bit about the artwork.
The artwork is from a friend of mine called Cool Carliff. I wanted something in a Wilfred Limonius style. Do you know him? He did the artwork for reggae and dancehall artists in the '70s to '80s. They were like comic book drawings, but within club situations or in the streets or Space Invaders or things like that. My friend does kind of the same kind of drawings, but maybe more street art-based with a lot of different characters, like dogs and cats. I asked him if he could do comic book-like stuff for the EP and he really liked Limonius' stuff too, so he was pretty happy to do it.
You've been known to wear flamboyant clothes. Did Dancehall's fashions inspire Inna Style N Fashion?
I don't know. I had to come up with a name. It's just something that old DJs in dancehall said. I'm French, so I don't know what it really means, but I guess it's about how they would dress fresh and in tight clothes when they would go out. Like when you see '80s and '90s dancehall videos, they have super crazy styles.
What do you think are the personal things that you bring to your sound?
Most of the time, I feel like there's not much fun in music nowadays. It's either cheesy EDM or serious types of house. There's nothing in between to have fun and not act too important.
For more exclusive interviews from MTV Iggy you can check out their website here

Inna Style N Fashion Tracklist:
1) Kantana - Dollar Sign
2) Kari Jess - Like A Genie
3) Keida - Never Lose
4) Cee Gee - Wine
You can purchase the EP on iTunes now and preview each track in full length below: