The "Lyrical Fyah" Cali P along with The Mighty Children have organized a massive first of its kind stage show to be held in Switzerland on August 3rd. "Me and my African brethren Moses from Gambia had the idea to make a one night stage show where we want to see a lot of artists on one stage," the artiste explained to Jamaicansmusic.com. He noted the significance of such a festival in the country, who's reggae scene has steadily been growing over the past few years stating that, " In Switzerland you always get one or maximum two artists in one night giving you a full performance. Thats the thing I would love to see more in Jamaica- full performances. Here now its something fresh to have 10 artists performing with one band -and the concept is very interesting to people."

The stage show is headlined by Swiss artistes Phenomden, Stereo Luchs and Cali P himself along with performances from a host of other artistes all backed by the Soulfire Band from Germany. Also incorporated in the mix are sound systems including DJ Enzout from Jamaica, Mighty Children Sound from Gambia and DJ Chiquidubs from Panama.

Cali P who was born to a Swiss mother and spent a great deal of his life in the country, spoke about sparking a movement to encourage Jamaicans and Caribbean people by extension living in Switzerland to assume a stronger presence within the Swiss music scene. "[It is] important to show people in Switzerland that we as black people definitely are able to keep the biggest event which promotes Music, Love and gather people from all different corners and ends. Royal!" he declared.


The festival was first held 7 years ago and then one other time. This time around it has received a great deal of support from media, fans and prospective sponsors which has inspired Cali P to turn the festival into an annual event as a platform for expanding the Jamaican music scene in Switzerland.

Cali P is also on the cusp of releasing his third studio album entitled "musiCALI-speaKING". The artiste relayed "Its all recorded and produced by Digital B and his Family and is my greatest album to come ever. It has taught me a lot of things musically, to be patient and never give up faith." He further added "I have grown up in Music and I am very happy that I have the possibility of living in Jamaica amongst great brethrens who understand the Love I have for Reggae Music and what my mission is really about- Rastafar I works is serious and dear to me- Thats why lately I have just been focusing on this project and releasing some singles here and there on the planet to stay relevant to my fans."

You can Purchase tickets for Royal Reggae Festival here.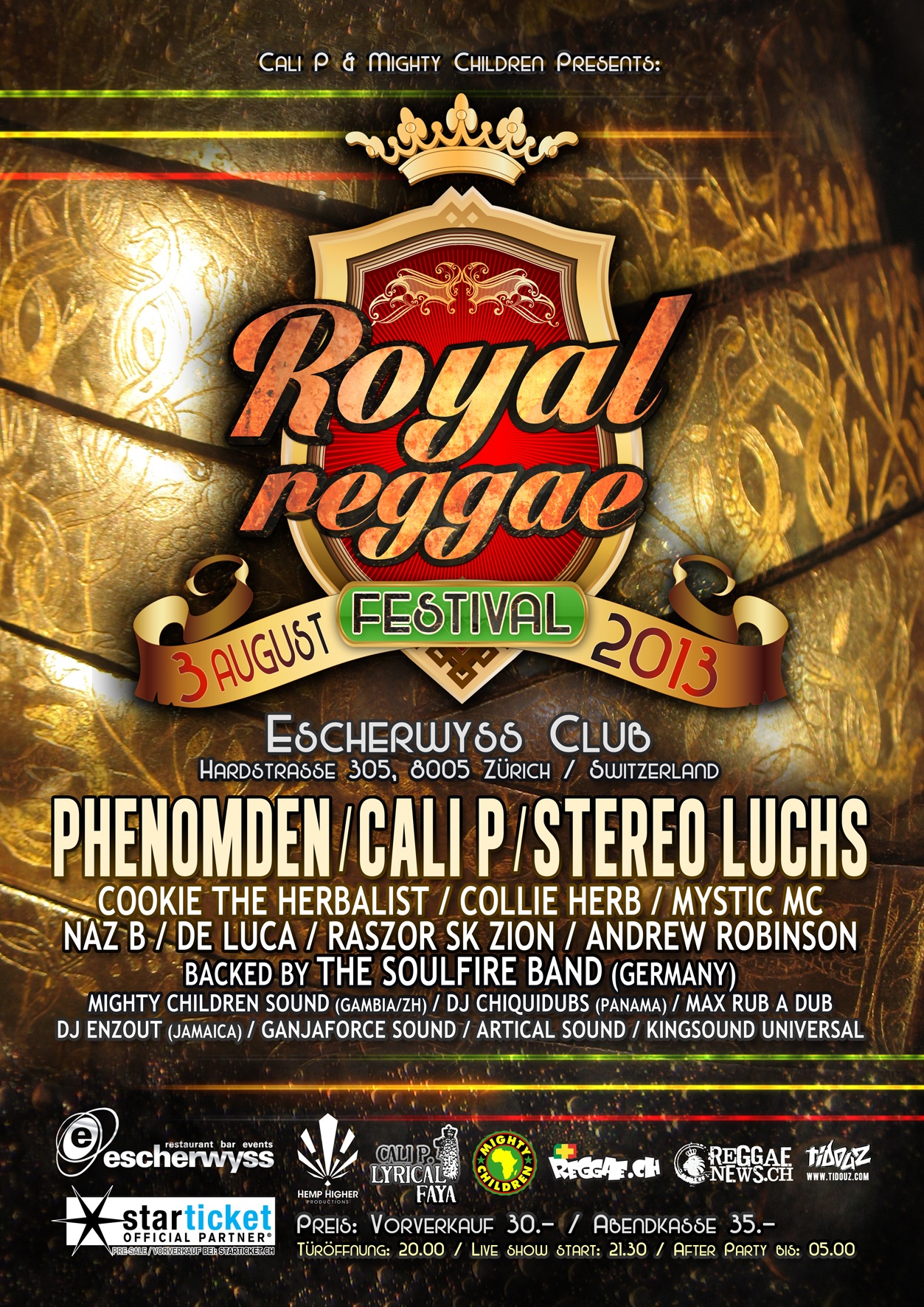 NOW AVAILABLE:
CALI P MUSIC ON I-TUNES
CALI P' s latest Album "UNSTOPPABLE"
CALI P' s Debut Album "Lyrical Faya"
INSPIRED MUSIC/HEMP HIGHER NEW RIDDIM "MOONLIGHT"