Comprising of Gurieer Brown as engineer, Mark Anthony Reid on drums, Ruel Phillips on percussions, Jon-Joseph Nepaul on keyboards, Richard Nelson on guitar, Craig Cole on bass guitar, Chad Anthony Smart and Toni Blair doing background vocals with Cecile Black on lead vocals, BLACKasCOLE's smooth, jazz-inspired singles will easily captivate your senses upon initially hearing them; making you a believer of impossibilities.

"We have a very unique sound and like other genres of music, it will take a time to catch on," intimates Black on their 'Jam-on-Dub' sound; which presents itself as an amalgamation of varying genres with the foundation of it all being Reggae and Dub music. Showcasing the dynamic soul and wavering mood of Reggae, the band has been together for next to three years and have released two songs – Musical Romance (an original) and a cover of Adele's Hometown Glory.

Though breaking into the musical landscape isn't an easy route to trod, the band is currently prepping their yet-to-be-titled debut album while fighting against the normality of Reggae bands. "We are introducing to [the world] probably the first female-led reggae band in Jamaica. We have made a conscious decision not to follow the trend and produce music that highlights negativity," Black explains. "We are built on love, hence that's what we strive to sing about."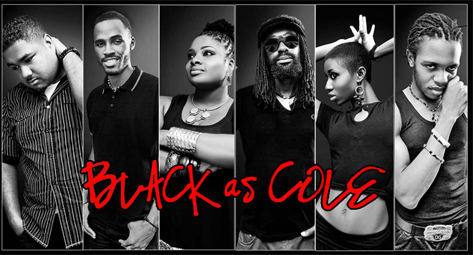 Having recently performed at the Jamaicansmusic.com-headed Earth Hour Acoustic Concert, Black admits that the struggle to get the deserved attention is tough but promises to be a worthwhile journey to take.
"From inception we have been managing ourselves, so any recording opportunities have been through our hard work and dedication. Nothing in life comes easy so we would say it has been quite a difficult task," Black commented before noting that their main process of recording comes through booking paid gigs in order to afford studio time. "When things seem almost impossible the Most High gives us a break, and at one point a good friend of the band Mr Lloyd Laing got us some studio time to mix a few songs. So, overall we consider ourselves blessed and hope things get easier with time," she continued. Having taken a stance to not use sensationalism to garner attention, BLACKasCOLE's - a name explain as "two-fold in that while it incorporates different cultures into the sound it is at the core, black as coal: Afrocentric, positive and reverential to the rich heritage passed down by the pioneers of Reggae music and also simply a creative combination of Cecile's and Craig's surnames. BLACK as COLE represents music vested in love." – antithesis of normality stands ready as pioneers of the next major act from humble beginnings.