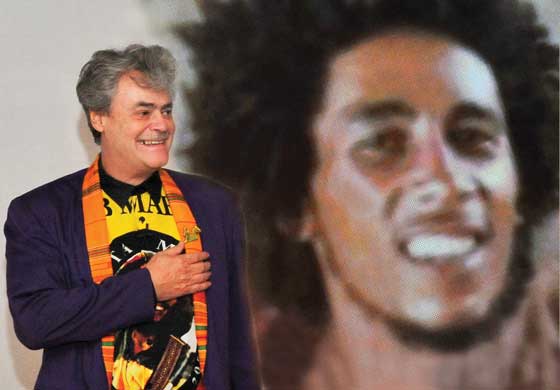 His six-room library is jammed with live cassettes, 42 years' worth of Rolling Stone (he bought the first-ever issue en route to Vietnam), rare vinyl and literally 3000 buttons of Bob Marley's face.
As an archivist and a friend, Steffens traveled to Africa with Marley as well, and peppers this deeply awesome guided tour with several choice anecdotes about the experience.
Affectionately known as the Reggae Ambassador to some, Steffens has left his mark on the music through his work as radio host at KCRW 89.9 in LA, a founding editor of The Beat magazine (1981-2009), as well as the various liner notes and books he has authored, the interviews he's conducted, the lectures he's given, the shows he's emceed, his position as the chairman of the Reggae Grammy committee, and his open door policy at the 'Ark-Hives'.
In this piece it focused mostly on the Bob Marley & The Wailers related material in hopes of providing a glimpse into just how insanely important his collection is. This is 9 minutes of holy grail after holy grail and it only represents a portion of his collection.