A recent graduate of the Edna Manley College's School of Visual Art in Jamaica, with a major in Illustration, Francis is too old to be admired as precocious but too young to be considered sagacious; mysteriously his intrepid spirit strikes the perfect balance between the two.

His unparalleled graphic style basks in intricate contrasting textures, psychedelic patterns, 3-D effects offset against 2-D backgrounds, and bold splashes of colour; which compound as a modern-day rococo mixed with Jamaican and global culture. With his artwork undeniably inspired by varying songs and social commentary, Francis' passion for art has align himself with varying artistes from the musical realm, including Protoje and Jah9, yet setting him as the pacemaker of a generation who'll feel enormous admiration for anything that speaks of difference. Jamaicansmusic sat with the artist himself to find out just what his ultimate goal as an illustrator is.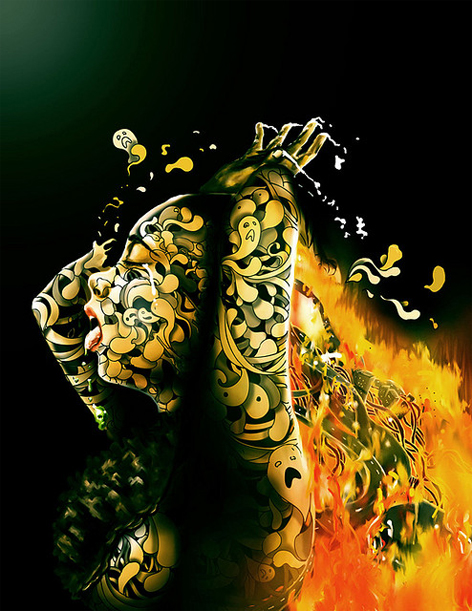 Jamaicansmusic: What's been the most challenging part of making a name for yourself in your field?
Taj Francis: Well, looking at it on a local scale, the difficulty lies in the fact that not a lot of people are used to my type of work in Jamaica. That's an advantage and disadvantage in itself, because it's different, so people will take to it more, and have an interest, but people will also not understand it. I consider myself an artist, more than just an illustrator…but I'm still more of an Illustrator than a Graphic Designer. People in Jamaica don't always get what I mean when I say I'm an illustrator, so I usually just say graphic designer to avoid confusion. That and the fact that people don't take the term "artist" seriously out here, unless you're a really big name artist. On an international scale, it is immensely difficult to make a name for yourself, because the field is so saturated. There are millions of artists worldwide, competing for recognition, and it takes a lot of skill, creativity, talent and some good luck to make a name for yourself out there.
JAmusic: Discuss with me, if you can, the relationship you see between graphic designing and journalism.
TF: Graphic Design is visual communication; it's the communicating of an idea, message, or concept using visual content. That goes hand in hand with journalism, because they help support each other to fully bring across the message to the viewer/ reader. More than just about pictures or accompanying artwork, graphic design goes down to the layout of text and typeface choices which give the reader a different reading experience. Knowing your demographic reader and the difference between laying out text for a print magazine, and text for an online article for the reader is a part of design. Every visual element, adds to the journalism experience I believe.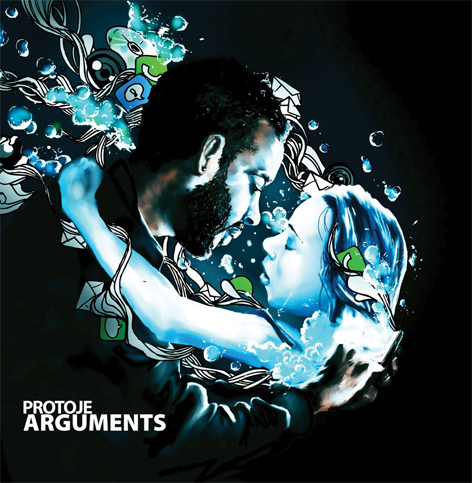 JAmusic: As a creative individual, you have to be faithful to your own vision, to art and self-expression. Have you ever been face in a situation where your artistic morality was challenged? If you were ever faced with this how would you handle it?
TF: Yeah…I have been, on more than one occasion. Like anything in this world, you have your negatives and positives, so everything you put out will have some kind of impact on someone, beyond just what is seen on the surface. Art, believe it or not, whether it is visual, audio or performance has a very big impact on people. So it's important as an artist to know what kind of message you're sending. In this world you either build or destroy. In situations where it goes against my moral code or vision, I tend to offer an alternative approach (if it's possible), and if that doesn't work, I will have to pass on it. So naturally, just like any individual, company or brand, you avoid aligning yourself with things or people that go against your moral code.
JAmusic: Could you make mention of the particular style of designing you do, I know of the Urban Grunge style, the Swiss style and the Bauhaus style. Are there any influences from other artists that influence your style?
TF: Well, I take a lot of influence form street artists, illustrators, designer and fine artists such as James Jean, Bone Face, David Choong, El Mac and Retina to name a few. My works are mostly illustrative in nature, ranging from different techniques from traditional, digital to a mix of both, whatever feels right at the time. Some of my major influences don't necessarily have a style similar to my own, but it more stems from an appreciation of their concepts, approach to work and aesthetic. My style draws from several influences; that urban graffiti/ street art aesthetic, traditional painting and drawings, Japanese paintings and manga style as well as propaganda poster art.
JAmusic: There are varying views depicting what makes a piece creative; for some it's important that the artist have something to say. What do you try to say with your pieces?
TF: Most of my works are social commentary in some aspect. I always try to speak about current issues, or general human issues. I try less to be too 'self righteous' in my work, because we all have our problems to work on. It's almost as if I'm trying to figure myself out as well as everything else through my art. I feel as if with every new work I create, it takes me on a journey of learning more about myself and the world around me. Anything that reflects the Creators design, I'm just a vessel as far as I'm concerned.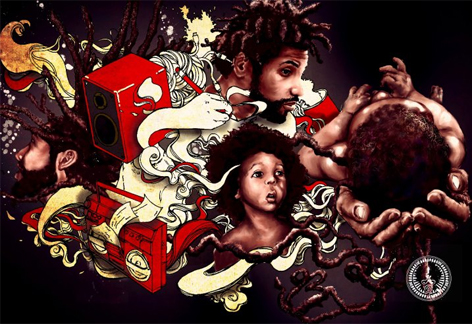 JAmusic: What's the one project you are most proud of and why this particular one?
TF: My most proud project…it's hard to say. It would more than likely be some personal work I've done. I would have to say, my work's from the 'END Series" are my favourite that I've done so far, as well as some of my most recent, Jamaican inspired works. Usually my proudest project, is my latest personal project, but I would have to admit that the 'END Series' has been my favourite.
JAmusic: What would be your dream job or project?
TF: Wow, I don't even know, I feel like anything I say now, I could think of something even better afterwards. My dream job is just to continue being a full time artist, touring the world with my artwork and doing murals in every country. My dream project would be a worldwide mural tour, where I do massive murals in cities around the world…yeah…that would be awesome. I want to make a positive impact on the world, so any project that helps to bring that about while still being creative is awesome. To view more of Taj's work click here.