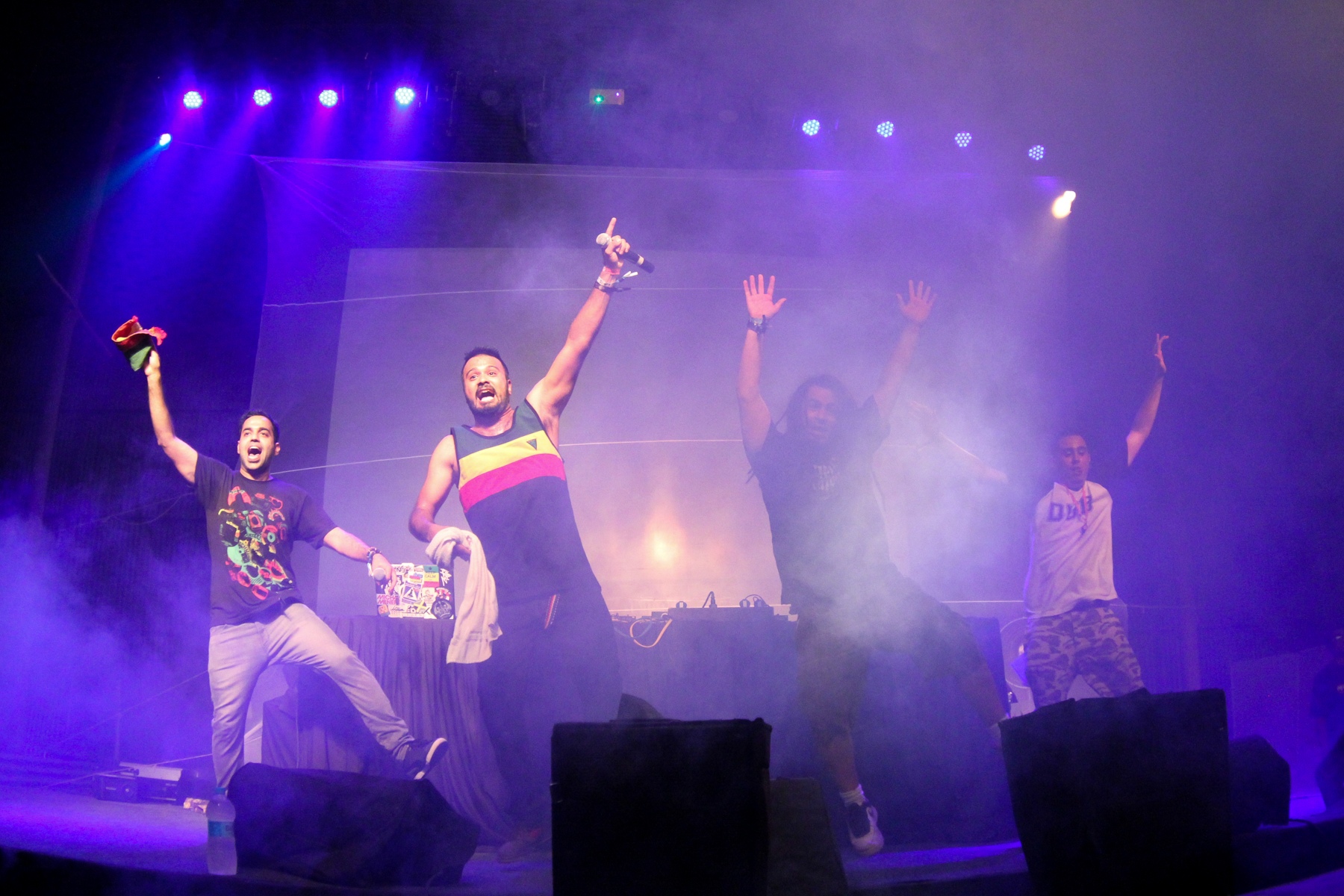 JAmusic: So guys how did it start the idea of creating Reggae Rajahs?General Zooz: It started about 4 and half years ago, me and Diggy Dang lived abroad, in Uk and the Us, and really got into reggae. When we came back to India we found out that here there was no reggae music. By chance there was another guy, Dj Mo'City, who was a promoter and dj and was at the time hosting a night for Bob Marley's birthday, so the three of us started talking and we said "ok let's do it, let's promote, let's start play" and that's how Reggae Rajahs was born. So we were the three founding members, then after a few years we started to expand, so Ziggy Blunt and B-Lights joined the team so now that's five Reggae Rajahs.
JAmusic: How is it playing Reggae here? I mean, when people think about Indian music, there isn't much Reggae.
General Zooz: Yeah, it has been a very interesting experience. It was very difficult and it still is quite difficult, but at the same time is something new and people appreciate that we are doing something new and different.People till now have responded well to our shows and to the sound system style of entertainment, but probably in the future we'll have to do some more original stuff: right now we are writing, doing a bit of recording but not enough, it will make a big difference when we'll have our own music or own productions or if we'll manage to combine some Hindi or Punjabi music with dancehall and reggae that would be fantastic, so I'd say that that's the ambition. We also do some singing or toasting over the tunes, writing our how lyrics, but we don't do it enough, we need to put more effort, time and practice into that.
JAmusic: So you play mainly in Delhi or you tour around India?
General Zooz: We play every week in Delhi, and during November December and January we tour pretty much every weekend.
Diggy Dang: Last weekend for example we were in Calcutta for a festival called NH7 Weekender: they have a stage called Dub Station and we kind of curate that stage, we get artist to play and we host it, and the Dub Station stage has been introduced in the last 3 years and it has brought a lot more people into this music. You know at festivals you meet people that may not know about reggae or may just not come to our gigs because that's not the music they are into, but at festivals people just pass by and hear it and then they become interested in this music, so this is something that really helped us in the last years.
JAmusic: Nice, so the reggae scene in India has grown a lot since you started?
Diggy Dang: It has grown a lot, definitely. Lots of local acts are coming up, people are doing their own researches on the web, and so many more people are into the music now.
JAmusic: What do you play mainly? What people want to hear at your gigs?
General Zooz: Dancehall. Dancehall and Soca. Yes, that's what is working now. The message, the lyrics are there but in the back seat. Now is more about energy and dancing. That's how we found it's easier to introduce the music, rather than going for dub or roots, because people are not really listening to that yet, they are more about the party.
Diggy Dang: Then of course the well-known reggae tunes always go down well but in terms of the different kinds of Jamaican music that are showcased all over the world, we play them but not in a festival set or in a club set, because sometimes we just can't. That's why we introduced Simmer Down our weekly night in Delhi, and there in the whole night we can introduce all the different sounds, there's no pressure like in a clubnight or a weekend when we have to play all the uptempo music. We could maybe play some roots in Goa, but then there the majority of the audience would probably be mainly of non-Indian so it's different.
JAmusic: What do you listen mainly?
Diggy Dang: Personally I love roots, foundation music, I love the old stuff more than anything else.
General Zooz: I think for all of us Lovers Rock is something that we really enjoy very much. Ziggy you got any input?
Ziggy: I like crossover reggae. Anytime you can get new people introduced to reggae is great so I personally love when it's mixed with hip hop or the electronic mixes that are big right now like Major Lazer. And since electronic is so big in India that it really can get you new audience, new people coming and checking it out.
JAmusic: Where do you find the music you play?
Diggy Dang: Well, here there is no vinyl culture and not many vinyl stores in India, once in a while you may be lucky and find some music in the shops but the new issues are not coming in and the labels are just not sending their music in. So we download it and many people just send us their music, so in our radioshow we mainly play what people send us, and also some labels like Vp Records keep us up to date, so it's very good to have this connections.Then, having said that, we were in Calcutta just last weekend and they have a lot of old vinyl records there and we managed to find some original old reggae tunes, some Jimmy Cliff and even some Calypso so we picked up some records.
JAmusic: Do you have an actual sound system, with the boxes and everything else?
General Zooz: No man, but we need to build that. I mean logistically and financially it's a bit difficult but we are thinking about doing it and I'm sure it would make a big difference because most of the sound system in India are not that great, it's changing now, but when we started it was really pathetic! And it would make such a big difference to play on a proper sound instead of on some little timpan sounds.
JAmusic: I've seen you brought many people to tour in India. How did it started? Also, Tippa Irie was the last one, how was the feeling between him and the Indian audience?
Diggy Dang: So we started approaching artists, telling them about the scene in India, asking them to send us their music, you know those kind of things.
General Zooz: And also the main thing is that everyone is very keen to come to India. So when we contacted them they didn't take it as a normal booking, so they immediately send us the music or made us a dubplate.
Diggy Dang: Than we met many artists while we were on tour in Europe, so whenever they planned to play in Asia or Middle East or Dubai it was easy to bring them in, and they immediately realized it was more about the experience than the budget. With Tippa Irie we contacted him and it was easy.
General Zooz: And we have to say that in terms on response he was probably the best. He is a veteran, so his interaction with the crowd and his entertainment value is very high. So while younger artists like Million Stylez or Ziggi Recado that we brought in in the past years, and which are artists more known to the audience and that we even listen a bit more, but in term of the reaction Tippa Irie was the best. And with him they didn't know any of his songs probably but he was doing so well.
Diggy Dang: Yeah his interaction with people was great, and the key is that he is a world class veteran entertainer, he has toured the world and he has seen it all and so he was absolutely able to adapt to a new kind of audience almost immediately. We didn't have one bad show with him, very engaging!
JAmusic: Who was the first artist you brought in India?
Diggy Dang: First artist we brought in was Mr Williamz from the Uk. It was 2011 and we did 7 shows in 5 cities. And it was a big deal for us because we always wanted to bring an International artist in and that was it. The reason why he was the first is that when we approached him for the first time he was the most responsive, like he immediately sent us his music, made dubplates of all of his songs, he became our artist!And not everyone was so welcoming so it was great for us to have that kind of response.
General Zooz: And he's got that Supercat kind of style, and Supercat being of Indian origins it's very significant, so we can't bring in Supercat but Mr Williamz represents the new generation of that style so we wanted to be responsible for bringing him down here in India. And I think he's got some Indian roots in his music so that connection is there too.
JAmusic: How was the European experience? How different it was to play there?
Diggy Dang: It was amazing! Actually in India we don't always get the right response for playing tunes that we love to play and that are worldwide known, here people don't know them. But when we were there and we played those tunes or some specials the response was much bigger and stronger and it gave us a lot of satisfaction to play there. And also at the same time it's a learning experience since there we could meet artists or sound systems and see how they juggle or entertain the crowd, and we could see how every sound had its own way and style of playing so for us it was really a learning experience.
General Zooz: We don't have anyone to look up to or the set our standard to here, but when we came from Europe we knew which standard we have to reach, how far we have to go, so it's really motivating for us.
JAmusic: And how was Rototom Sunsplash Festival?
General Zooz: Rototom was great, probably one of our best shows. There was some many people there and it was like a dream. Five-six years ago we were going to these festivals and to be performing in a stage like that was great.
Diggy Dang: And longside big sounds like Mighty Crown, Poison Dart, Sentinel, all these big big sounds from all over the world and we were there representing India and I think for the Indian reggae scene it was very important.
General Zooz: From the whole Asia, beside Japan of course, no other sounds had been there before.
Diggy Dang: Yeah we couldn't believe it, at some point we even felt that we didn't deserve to be there but at the same time since we brought many European artists down here it was some kind of reward for us to be there and to be part of it. Before Alborosie went to stage, after Ce'Cile's show, they gave us 20 minutes on the main stage for a showcase, and we had thousands of people in front of us waiting for Alborosie and it was great! Lots of people just saw us there for the first time and came to the backstage to greet us and recognize us. And then after that we had our full show on the Dancehall stage, so yes, it was really great.
JAmusic: What do you guys think of the new music coming from Jamaica, the Reggae Revival movement and artists like Chronixx, Protoje?
General Zooz: We are really into those artists, they are brilliant, all of them. We hang out with Dutty Bookman (activist and author of "Tried and True: Revelations of a Rebellious Youth", he is a key figure in the Reggae Revival Movement ndr) at Rototom last summer and it was very interesting. I don't really like the use of the term 'revival' because I don't think reggae was dead or roots music was dead before these guys, but I really appreciate the music they are making, we play them a lot whether it's Chronixx, Kabaka, Protoje or the other less known artists like Iba Mahar, Jesse Royal, Dre Island, they are all good and we are on it.
Diggy Dang: The term 'revival' probably came from the fact that in Jamaica this music was not so popular, there was more bashment, dancehall, while the European producers were doing roots music…
General Zooz: I don't know, still the big singers were doing their thing, it's a bit of a diss to say that those guys don't count…
Diggy Dang: Yes they count, but in terms of popularity in Jamaica dancehall and bashment took over. And the big foundation artists were more popular in Europe, like Barrington Levy, Horace Andy were doing more shows in Europe while in Jamaica Mavado or Vybz Kartel were the main stars. We can say that it's a revival in Jamaica because these artists are popular over there right now. And yes, we love it, we play it every time!
JAmusic: If you have to suggest to someone who has never listened reggae something to start and something that is needed to know, what would you say?
General Zooz: Well it's cliché but it has to be Bob Marley to some extent. It's the natural thing.
Diggy Dang: Damian Marley, Tarrus Riley, Chronixx for the new school.
General Zooz: There are some many classics you need to listen to you know? Like Barrington Levy, Dennis Brown, Toots, Supercat, Yellow Man. Now definitely Tarrus Riley, Beenie Man is still doing his thing representing dancehall, and then of course Chronixx, he is the voice of the future. I haven't heard a voice like that in long time, he has the potential to be huge.
JAmusic: Thanks again for your time, one last question, what are the plans for the future of Reggae Rajahs?
General Zooz: For 2014, there will be a lot of touring. We are trying to plan a southeast Asia tour, then we'll see. Europe hopefully again at some point and we are also thinking about going to Jamaica. We've never been there and it's going to be 5 years of Reggae Rajahs in February so we are going to see at some point if we can make that happen. So yes, lots of touring, working on some original stuff. Those are the plans, work work work and let's see where it goes.