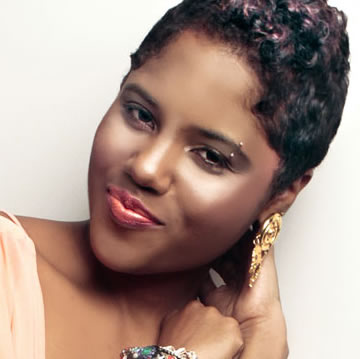 In the midst of promoting her newly released music video, Make Me Believe You, and putting the finishing touching on the highly anticipated Her Name is Denyque EP, Jamaicansmusic.com caught up with the bubbly chanteuse to find out just a bit more on the EP and what can be expected.

JAmusic: Your first EP, 'Her Name is Denyque', is set to be released in the upcoming weeks, and we've been awaiting it for some time now. Why was it deemed necessary to release this offering?

D: It's actually set for a late November release and I'm so excited, mind you, a little nervous but excited nonetheless. The main focus isn't a reintroduction at all, it's more of a solid imprint, and hence the chosen title "Her Name is Denyque".

JAmusic: The project is executively produced by Stephen McGregor, DASECA, and Ricky Blaze. How was it that you made that connection with them? What best quality/qualities do they bring out of you?

D: I made the connection with Stephen via Chino whilst making our hit collaboration "Driving Me Insane". DASECA and I have been musical colleagues for a long time but that collaboration was proof for me that nothing happens before it's time. I got the link with Ricky through Johnny Wonder - nuff respect to him - and it was all golden from there on out. My best quality working with these guys is the undeniable musical chemistry.

JAmusic: What song(s) on the EP do you hold closest to your heart, that you simply can't wait for everyone to hear and why this particular track?

D: You'll know this track by the little heart I'll put beside the title (giggles).

JAmusic: Is 'Make Me Believe You' the lead single for the EP or simply a teaser track that will eventually become a bonus track on the EP?

D:

'Make Me Believe You' is MY lead single. But I would honestly say it's just a teaser track. With all the modesty I can muster; this EP is gonna be sure fire.


JAmusic: Could you talk a bit on the concept behind the video for 'Make Me Believe You'.

D: I wanted this video to be a performance video mainly because I wanted to show a different side of me to my fans both old and new. RD Studios came up with the simplest and most straightforward storyline just to add a little extra; the cheating boyfriend, claiming to be working late and the teddy bear who was the non-informant. Teddy knew everything but couldn't tell me and so I took out my frustration on him.

JAmusic: You always wanted to work with 'Di Genius', why was that and how come it took so long?

D: I love his production and his work ethic is a plus. I don't think it took long, nothing happens before it should really (smiles).

JAmusic: Is there an actually date for the EP's release that we can mark on our calendars?

D: Unfortunately not as yet but expect it late November for sure!

JAmusic: What specific elements do you think characterizes your growth as an artiste from your 2009 burst onto the scene to now that we'll hear on the EP?

D: I've grown tremendously as an artiste over the past 4 years. I'm very comfortable with myself. My delivery when recording as well as performing has come a long way. I'm confident and secure with my image and my music as it is right now and very excited in what the future holds in store for me.